5.1 Channel Gaming Headset
Den här produkten är inte längre tillgänglig
Produktnummer: 47620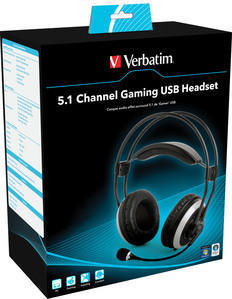 Produktinformation
Noise cancelling headset - ideal for internet gaming / listening to music
USB connection - simply plug n play
5.1 Channel Surround Sound
Virtual 7.1 Ch Speaker Shifter
Omni-directional boom microphone
Leatherette ear pads for comfort
Ajustable headband for the most comfortable fit
Inline volume control
Microphone mute LED indicator
Speakers mute switch
Free hotline support
Verbatim 2 Year Limited Warranty.
System Requirements
Windows 2000/XP/Vista
Mac 9.x or above version (Software not compatible with Mac OS)
Available USB port
PC with audio output
Mic input required for voice communications
Product Specifications
Amplifier Specification:
Total Harmonic Distortion (T.H.D.): Less than 1% (subwoofer),
Less than 1% (Front/Rear/Center)
Frequency Response: Subwoofer: 50Hz - 5KHz,
Front/Rear/Center: 120Hz - 20KHz
Max. Output Power: Subwoofer: 500mW,
Center: 50mW,
Front/Rear: 50mW.
Speaker Specification:
Driver: Subwoofer (Vibration Unit): 30mm, 8 OHMS 500mW x 2
Front: 40mm 32 OHMS 100mW x 2
Rear: 30mm 32 OHMS 100mW x 2
Center: 30mm 16 OHMS 100mW x 2
Frequency Response: Subwoofer: 50Hz - 400Hz
Front/Rear: 250Hz - 17KHz
Center: 180Hz - 14KHz
Microphone Specification:
Directivity: Omni-Directional
Impedance: 2.2K ohms
Frequency: 100Hz - 10KHz
Sensitivity: -54+/-3dB
Dimension: 6x5mm
Produktsammanfattning
---
Product Weight: 370g
Connectivity: USB 2.0
Length of cord: 2.0m

Gaming headsets are all about great sound quality, clarity and comfort, and Verbatim offers all of these in abundance. The 5.1 Channel Gaming USB Headset from Verbatim offers superb surround sound. Gamers can experience being in the midst of the action, able to hear their enemies footsteps from miles away!

Closed leatherette ear cushions cut external sound and delivers supreme comfort together with the adjustable headband. The microphone features advanced noise cancellation capabilities ideal for frenzied in-game correspondence and the in-line volume control and microphone mute lets you easily dip in and out of the action.

The external audio controller of the 5.1 Channel Headset amplifies each individual speaker providing total control for front, side, rear, and subwoofer to customize your immersion.

Pack Contents:
5.1 Channel USB Gaming Headset
Quick Start Guide in 12 languages
CD containing Software & User Manual


Produktnummer: 47620