miniSD 2GB*
Den här produkten är inte längre tillgänglig
Produktnummer: 47228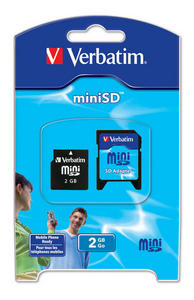 Produktsammanfattning
---
Developed to meet the demands of the mobile telephone market, Verbatim miniSD (mini SecureDigital) cards are approximately 60% of the size of a standard SecureDigital memory card, yet offering all the same benefits.

As one of the world's smallest cards measuring just 20(w) x 21.5(h) x 1.4(d) mm, it is no wonder the card itself weighs only 1gram.

Verbatim miniSD cards include copyright management protetction giving the capability to down load and play secure data. They also allow you to store digital images, mp3, video files and other file formats.

The Verbatim miniSD cards comes with a miniSD adaptor enabling the card to be used in all devices that take the standard SD card. These include Digital Cameras, Digital Video Cameras, PDA's, PC's, and portable audio equipment.


miniSD Logo is a trademark.
Capacity: 2GB
Dimensions: 20 x 1.4 x 21.5
Weight: 1g
Produktnummer: 47228
*GB = 1 miljarder byte. Den tillgängliga kapaciteten för lagringsenheten blir mindre, enheten använder upp till 10 % av minnet för formatering och andra funktioner. Se
www.verbatim.com/flashcapacity
.