Portable Hard Drive eSATA / USB Combo 500GB*
Den här produkten är inte längre tillgänglig
Produktnummer: 47577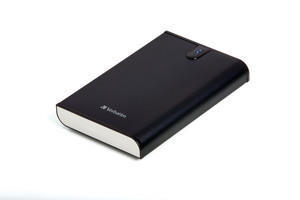 Produktinformation
Ultra fast eSATA data transfer speeds
Powered eSATA cable eliminates the need for a seperate power supply
Rugged aluminium enclosure
Includes Nero BackItUp 4 Essentials Software
Free Technical Hotline Support
Verbatim 2 Year Limited Warranty.
System Requirements
eSATA port
USB 2.0 / USB 1.1 port
Mac OS X 10.1 or higher
Windows 2000 / XP / Vista / Windows 7
Linux
Product Specifications
Product Weight: 205 grams
Product Dimensions: 130 x 80 x 17mm
Data Transfer Rate: USB 2.0: 480 MB/s (max) / eSATA: 3000 MB/s (max)
Pack Contents:
eSATA Portable Hard Drive
Powered eSATA cable
USB 2.0 cable
Auxilliary DC Power Cable (USB-A to barrel plug)
Quick Start Guide in 15 languages.
Produktsammanfattning
---
Ultra fast data transfer speeds via powered eSATA.
Verbatim's eSATA and USB 2.0 Combo Portable Hard Drive delivers ultra fast data transfer on the go! Data transfer speeds via eSATA are up to 6 times faster than USB 2.0 at up to 3000 MB/second compared to USB 2.0 speed of 480 MB/second (max).
About Powered eSATA
External SATA (or "eSATA") ports can transfer data at very high data rates (up to 3.0 GB/s). However, the original eSATA specification does not provide a power connection through the standard eSATA connector. This is inconvenient for portable external hard drive applications, because it means use of the portable drive requires both a data cable and a separate power cable or AC power adapter to power the drive. Recently many laptop manufacturers have included a combination USB/eSATA connector that can be used in conjunction with a special Powered eSATA Cable to provide a single-cable solution for portable Powered eSATA hard drives, such as your new Verbatim drive. The combination USB/eSATA connector looks like the picture below, and might be labeled on your laptop as "USB/eSATA" or as this symbol:
The eSATA / USB Combo Portable Hard Drive also comes with Nero BackItUp4 Essentials software for automatic or scheduled backup of all your important files and folders.
Verbatim 2 Year Limited Warranty.
Capacity: 500GB
Produktnummer: 47577
*GB = 1 miljarder byte. Den tillgängliga kapaciteten för lagringsenheten blir mindre, enheten använder upp till 10 % av minnet för formatering och andra funktioner. Se
www.verbatim.com/flashcapacity
.