Verbatim LED Mini Globe E27 5,5W
Den här produkten är inte längre tillgänglig
Produktnummer: 52606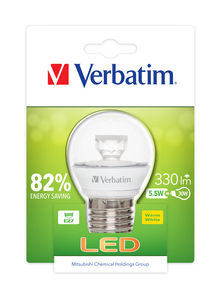 E27 Sockel
220 - 240V
15,000 Livslängd
82% Energy Saving
Ljusflöde: 330 lm
Motsvarande 30W för glödlampa
E27
330lm
5.5W
= 30W Byte av glödlampa
Varm vit 2700K
| | |
| --- | --- |
| Produktnummer | 52606 |
| Allmän information | |
| Lamputtag | E27 |
| Design | Mini Globe E27 |
| Strömkälla | |
| Anpassning | |
| Installation type | |
| Elspecifikationer | |
| Wattal (W) | 5.5 |
| Motsvarande wattal | 30 |
| Spänning (V) | 220 - 240V |
| Dimbar | no |
| Instant-on | yes |
| Effektfaktor | 0.50 |
| Frekvens (Hz) | 50-60 |
| Ström (mA) | 30 |
| Geometrisk information | |
| Längd (mm) | 74.5 |
| Yttre diameter (mm) | |
| Inre diameter (mm) | |
| Bredd (mm) | |
| Höjd (mm) | |
| Diameter (mm) | 45 |
| Vikt (g) | 59.5 |
| A1 (fixation) mm | |
| A2 (fixation) mm | |
| | |
| --- | --- |
| Fotometrisk information | |
| Luminaire efficiency | |
| Ljusflöde (lm) | 330 |
| | |
| led- Luminous Flux 120° Cone | |
| CRI | 80 |
| Färgtemperatur (K) | 2700 |
| Ljusstyrka (cd) | |
| Strålningsvinkel (°) | 120 |
| Belysningseffekt (lm/W) | 60 |
| Livslängd (h) | 15,000 |
| Växlingscykel | 20,000 |
| Ljusflödesbibehållningsfaktor – angiven i % | |
| Färgöverensstämmelse (+ / - K) | |
| Starttid (millisekunder) | |
| Uppvärmningstid (millisekunder) | |
| UGR | |
| Energieffektparameter | |
| Energieffektklass | A+ |
| Mekaniska parametrar | |
| Safety class | |
| Glödkabeltest | |
| | |
| Antändbarhet | |
| Kåpans material | |
| Kåpans färg | |
| Skyddsklass | |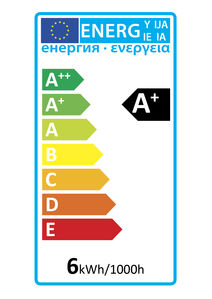 Bättre ljus med lägre elförbrukning
Hushållselen för belysning i Europa blir allt grönare, i takt med att EU ställer högre krav enligt normerna för elförbrukning.
Från och med 1 september 2009 började glödlampor och andra högenergeiförbrukande lampor i Europa gradvis ersättas av de mer energisnåla lamporna. Genom att växla till mer energisnåla produkter för belysning kan europeiska hushåll spara energi och bidra till att nå EU:s klimatmål.
Från och med den 1 september 2013 kommer ett nytt EU-direktiv som rör energiklassmärkning (nr.874/2012) att börja gälla. Med detta kommer en ny energimärkning för lampor, inklusive LED-lampor, som kommer att tvinga upp energiklasserna ända upp till A+ och A++ för belysningslösningar.
Produktsammanfattning
---
The Verbatim LED Mini Globe produces an incandescent-like light, has an energy saving of up to 85% and a long lifetime.
Användning
Suitable for a variety of general lighting applications such as restaurants, hotels, homes and offices.