Verbatim LED MR16 GU5.3 5.5W
Den här produkten är inte längre tillgänglig
Produktnummer: 52609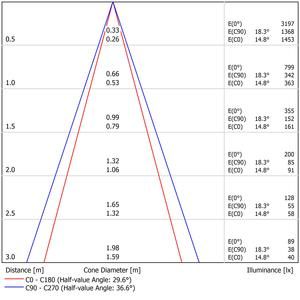 GU5.3 Sockel
12 AC/DCV
20,000 Livslängd
84% Energy Saving
Motsvarande 35W för glödlampa
GU5.3
350lm
5.5W
= 35W Byte av glödlampa
Varm vit 2700K
| | |
| --- | --- |
| Produktnummer | 52609 |
| Allmän information | |
| Lamputtag | GU5.3 |
| Design | MR16 GU5.3 |
| Strömkälla | |
| Anpassning | |
| Installation type | |
| Elspecifikationer | |
| Wattal (W) | 5.5 |
| Motsvarande wattal | 35 |
| Spänning (V) | 12 V AC/DC |
| Dimbar | ingen |
| Instant-on | yes |
| Effektfaktor | 0.50 |
| Frekvens (Hz) | 50-60 |
| Ström (mA) | 600 |
| Geometrisk information | |
| Längd (mm) | 49.8 |
| Yttre diameter (mm) | |
| Inre diameter (mm) | |
| Bredd (mm) | |
| Höjd (mm) | |
| Diameter (mm) | 49.8 |
| Vikt (g) | 48 |
| A1 (fixation) mm | |
| A2 (fixation) mm | |
| | |
| --- | --- |
| Fotometrisk information | |
| Luminaire efficiency | |
| Ljusflöde (lm) | |
| | |
| led- Luminous Flux 120° Cone | |
| CRI | ≥ 80 |
| Färgtemperatur (K) | 2700 |
| Ljusstyrka (cd) | 750 |
| Strålningsvinkel (°) | 35 |
| Belysningseffekt (lm/W) | 63.6 |
| Livslängd (h) | 20,000 |
| Växlingscykel | 100,000 |
| Ljusflödesbibehållningsfaktor – angiven i % | |
| Färgöverensstämmelse (+ / - K) | |
| Starttid (millisekunder) | |
| Uppvärmningstid (millisekunder) | |
| UGR | |
| Energieffektparameter | |
| Energieffektklass | A+ |
| Mekaniska parametrar | |
| Safety class | |
| Glödkabeltest | |
| | |
| Antändbarhet | |
| Kåpans material | |
| Kåpans färg | |
| Skyddsklass | |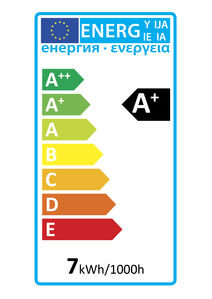 Bättre ljus med lägre elförbrukning
Hushållselen för belysning i Europa blir allt grönare, i takt med att EU ställer högre krav enligt normerna för elförbrukning.
Från och med 1 september 2009 började glödlampor och andra högenergeiförbrukande lampor i Europa gradvis ersättas av de mer energisnåla lamporna. Genom att växla till mer energisnåla produkter för belysning kan europeiska hushåll spara energi och bidra till att nå EU:s klimatmål.
Från och med den 1 september 2013 kommer ett nytt EU-direktiv som rör energiklassmärkning (nr.874/2012) att börja gälla. Med detta kommer en ny energimärkning för lampor, inklusive LED-lampor, som kommer att tvinga upp energiklasserna ända upp till A+ och A++ för belysningslösningar.
Produktsammanfattning
---
The MR16 range has been developed to replace 20W, 35W & 50W equivalent MR16 halogen lamps. They are designed for MR16 applications with the same profile as halogen MR16 and deliver excellent lighting performance. Verbatim LED MR16s are perfect substitutes for halogen MR16s and are available in multiple beam angles and colour temperature options to provide the desired atmosphere.
Användning
Ideal for spotlighting and general lighting in public areas such as restaurants, reception areas, corridors, lobbies, conference rooms and other areas where light is on for long periods.