Verbatim Outdoor LED PAR38 E27
Den här produkten är inte längre tillgänglig
Produktnummer: 52033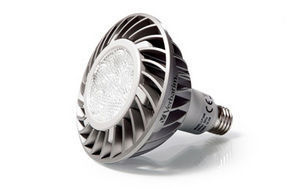 E27 Sockel
220 – 240V
25,000 Livslängd
84% Energy Saving
Ljusflöde: 1250 lm
Motsvarande 119W för glödlampa
E27
1250lm
19W
= 119W Byte av glödlampa
Cool White 4500K
| | |
| --- | --- |
| Produktnummer | 52033 |
| Allmän information | |
| Lamputtag | E27 |
| Design | |
| Strömkälla | |
| Anpassning | |
| Installation type | |
| Elspecifikationer | |
| Wattal (W) | 19 |
| Motsvarande wattal | 119 |
| Spänning (V) | 220 – 240 V |
| Dimbar | no |
| Instant-on | yes |
| Effektfaktor | 0.90 |
| Frekvens (Hz) | 50-60 |
| Ström (mA) | 95 |
| Geometrisk information | |
| Längd (mm) | 133.8 |
| Yttre diameter (mm) | |
| Inre diameter (mm) | |
| Bredd (mm) | |
| Höjd (mm) | |
| Diameter (mm) | 122.7 |
| Vikt (g) | 696 |
| A1 (fixation) mm | |
| A2 (fixation) mm | |
| | |
| --- | --- |
| Fotometrisk information | |
| Luminaire efficiency | |
| Ljusflöde (lm) | 1250 |
| | |
| led- Luminous Flux 120° Cone | |
| CRI | > 70 |
| Färgtemperatur (K) | 4500 |
| Ljusstyrka (cd) | 1200 |
| Strålningsvinkel (°) | 45 |
| Belysningseffekt (lm/W) | 54 |
| Livslängd (h) | 25,000 |
| Växlingscykel | 60,000 |
| Ljusflödesbibehållningsfaktor – angiven i % | |
| Färgöverensstämmelse (+ / - K) | |
| Starttid (millisekunder) | |
| Uppvärmningstid (millisekunder) | |
| UGR | |
| Energieffektparameter | |
| Energieffektklass | A |
| Mekaniska parametrar | |
| Safety class | |
| Glödkabeltest | |
| | |
| Antändbarhet | |
| Kåpans material | |
| Kåpans färg | |
| Skyddsklass | IP54 |
Produktsammanfattning
---
Den här energibesparingen är ett alternativ för belysning på offentlig plats och en perfekt ersättning för halogenlampor eller PAR38 stearinljuslampor.
With Verbatim LED PAR38 Outdoor, you will enjoy your outdoor spaces in the evening as well as during the day. Not only does it make the outside of buildings and gardens more visible, it also showcases them in the best possible way!
Användning
Perfekt för allmän belysning och punktbelysning i offentliga områden, såsom lobbyer, korridorer, trapputrymmen och butiker, där belysningen är på under längre perioder.