Wireless Nano Mouse - Graphite
Den här produkten är inte längre tillgänglig
Produktnummer: 49040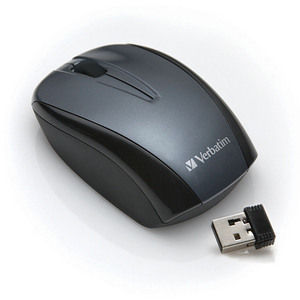 Produktinformation
3 button, 1600dpi wireless mouse.
Plug-in Nano receiver - small enough to leave connected.
2.4GHz wireless with the Nano receiver.
Specially designed for comfort and control with a smooth, textured grip.
Free Technical Hotline Support.
Verbatim 2 Year Limited Warranty.
System Requirements
Windows XP, 2000, Vista and 7
Mac OS 10.4.X and higher
USB 2.0 Interface (also compatible with USB 1.1 ports).
Product Specifications
Dimensions: 97.3mm x 59mm x 36mm (L x W x H)
Weight: 65 grams
RF (RF distance 6m - open space 10m)
dpi (dots per inch): 1600
Pack Contents:
Wireless Nano Mouse
Nano Receiver
2 x AAA Batteries
Quick Start Guide.
Produktsammanfattning
---
If you need a mouse that travels we1l in tight spaces, this mouse is for you.

To use the mouse, simply plug in the nano receiver to a USB port and use the mouse wirelessly. The wireless is 2.4GHz for reliability and performance. The nano receiver is also small enough for it to be plugged in once and left connected, so it is the perfect mouse to use when on the move or for use on the desktop with minimal fuss. The receiver also slides right into the botton of the mouse for safekeeping.

To preserve battery power, the Nano Mouse has a sleep mode. After a short period of inactivity the mouse will enter sleep mode. Simply press any of the buttons to wake it up again.


The Nano Mouse offers a smooth, contoured grip for the right or left hand and a programmable roller button - meaning you can assign your favourite features to the roller, making work easier.

Software is available to download: www.verbatim-europe.com/support.
Note: Before running the program, make sure the mouse is connected with the computer.

Produktnummer: 49040