2.5" SATA-II SSD - 64GB* - Silver
Den här produkten är inte längre tillgänglig
Produktnummer: 47470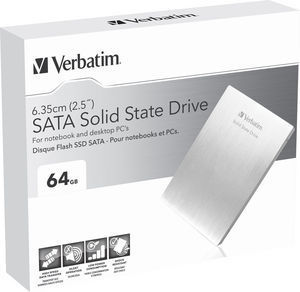 Produktinformation
SATA 3Gb/s Native Command Queuing (NCQ): up to 32 commands
Asynchronous Signal Recovery
Device Activity Signal
SMART command support
Trim command support (Windows 7)
Global wear levelling algorithm to increase endurance of flash memory

System Requirements
Windows 7, Vista, XP
Mac OS X 10.4 or higher
Linux 2.4.0 or higher
Product Specifications
Interface: SATA-II
Host transfer speed: 3Gb/s (backwards compatible with SATA-I – 1.5Gb/s)
Weight: 90grams (approx.)
Dimensions: 100.3mm x 69.85mm x 9.3mm (L x W x H)
Operating temperature: 0 degrees to 70 degrees
Non-operating temperature: -40 degrees to 85 degree
Power requirement: DC 5V +/- 5%
Pack Contents:
SATA-II Solid State Drive
3.5" mounting bracket (bracket mounting screws)
Molex – SATA power cable
Quick Start Guide

Produktsammanfattning
---
Verbatim's SATA-II SSD (Solid State Drive) is the ultimate hard drive alternative for notebook and desktop PCs.

• High speed data transfer
• Silent operation
• Rugged and durable
• Low power consumption

Solid State Drives use flash memory and as such offer high data transfer rates (read/write speeds) when installed in a notebook or desktop PC. There are no moving parts in an SSD which means they require less power to operate. Lower power consumption gives longer notebook usage time and because there are no moving parts the drive operates silently.

The SATA-II SSD is shock and vibration resistant making it more durable in harsher environments, and offers faster system performance than a standard hard drive.


Verbatim SATA-II SSD feature SMART command support, Trim command support (Windows 7), and Native Command Queuing (NCQ) support.
Produktnummer: 47470
*GB = 1 miljarder byte. Den tillgängliga kapaciteten för lagringsenheten blir mindre, enheten använder upp till 10 % av minnet för formatering och andra funktioner. Se
www.verbatim.com/flashcapacity
.