Clip-it USB Drive 4GB* White
Den här produkten är inte längre tillgänglig
Produktnummer: 43900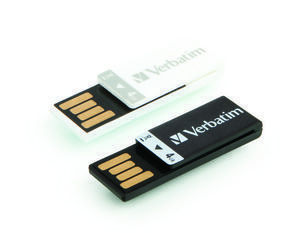 Produktinformation
Flash storage in an award-winning clip design,
Password Protection Software Trial available for download,
Free Technical Hotline Support,
Verbatim 2 Year Limited Warranty.
System Requirements
USB 2.0 / USB 1.1 port
Windows 8, 7, Vista, XP
Mac OS 9 or higher
Linux 2.4.0 or higher
The drive is certified for Windows Vista.
Software compatible with Windows 2000 / XP / Vista.
Product Specifications
Weight: 2 grams
Dimensions: 36mm x 12.4mm x 4.5mm (LxWxH)
Read Speed: up to 10MB/Sec
Write Speed: up to 3MB/Sec
Interface: USB 2.0 (also compatible with USB 1.1 ports)
Power Source: USB Bus (no batteries required)
Pack Contents: USB Drive.
Produktsammanfattning
---
The award-winning Verbatim Clip-it USB Drive is the first USB Drive that can also be used as a paperclip. Designed by Arman Emami, Clip-it has been awarded the accolade of Red Dot 'Best of the Best' 2010.
Available in a range of vibrant colours, Verbatim's Clip-it USB Drive combines flash storage with the simple functionality of a paperclip, making it a wonderfully practical solution for daily business or private users.
Password Protection Software Trial available for download -
www.verbatim-europe.com/usbsoftwaredownload
Important Information:
The Clip-it USB Drive should be inserted into the standard USB port, but due to Chip on Board technology, it should be inserted facing upwards, following the direction of the arrow. If inserted incorrectly the drive will not be recognised.
Verbatim 2 Year Limited Warranty.
Capacity: 4GB
Produktnummer: 43900
*GB = 1 miljarder byte. Den tillgängliga kapaciteten för lagringsenheten blir mindre, enheten använder upp till 10 % av minnet för formatering och andra funktioner. Se
www.verbatim.com/flashcapacity
.