USB 3.0 External SSD 64GB*
Den här produkten är inte längre tillgänglig
Produktsammanfattning
---
Capacity: 64GB

Read Speed: up to 150MB/sec
Write Speed: up to 90MB/sec


Produktnummer: 47633
*GB = 1 miljarder byte. Den tillgängliga kapaciteten för lagringsenheten blir mindre, enheten använder upp till 10 % av minnet för formatering och andra funktioner. Se
www.verbatim.com/flashcapacity
.
Verbatim MDISC Compatibility Chart
USB 3.0 External SSD 64GB*
Den här produkten är inte längre tillgänglig
Produktnummer: 47633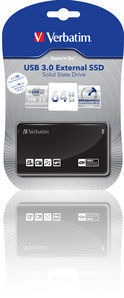 Produktsammanfattning
---
Capacity: 64GB

Read Speed: up to 150MB/sec
Write Speed: up to 90MB/sec


Produktnummer: 47633
*GB = 1 miljarder byte. Den tillgängliga kapaciteten för lagringsenheten blir mindre, enheten använder upp till 10 % av minnet för formatering och andra funktioner. Se
www.verbatim.com/flashcapacity
.